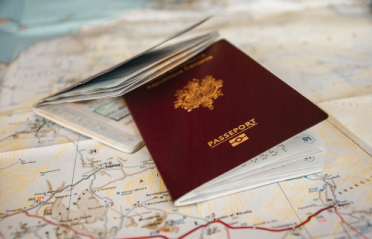 You'll almost certainly need a visa to enter Russia – allow at least a month to arrange it. Once in the country you'll also need to make sure your visa is registered; this is usually taken care of by the hotel or hostel you are staying in.
Customs Regulations
Customs controls in Russia are relatively relaxed these days. Searches beyond the perfunctory are quite rare. Apart from the usual restrictions, you are limited by the amount of cash you can bring in. If you are carrying more than US$3000 – or valuables worth that much – you must declare it and proceed through the red channel.
Otherwise, on entering Russia, you can pick up your luggage and go through the green channel, meaning 'nothing to declare'.
If you intend to take home anything vaguely 'arty' (manuscripts, instruments, coins, jewellery) it must be assessed by the Cultural Security Department. Take along your passport, a sales receipt and the item in question. The experts will issue a receipt for tax paid and a certificate stating that the item is not an antique. It is illegal to export anything over 100 years old.
Visas
Nearly all visitors need a visa, which will require an invitation. Tourist visas are generally single entry and valid for up to 30 days.
Types of Visa
The primary types of visas are tourist visas (valid for a 30-day stay) and business visas (for 30- to 180-day stays). The specific requirements of Russian embassies in each country differ slightly, so check with the website of the embassy you're planning to apply through. Be aware that unless you live abroad, you won't usually be able to obtain a Russian visa anywhere but in your own country.
Generally for all visas you'll need to submit your passport, a photo, an invitation from either a hotel or a travel agency in Russia, a completed application form (downloadable from the embassy website) and in most cases a certificate of health insurance coverage.
Visa-free Travel
Passport holders of a handful of countries, including Israel, South Africa, South Korea, Thailand and many South American nations, enjoy the positive luxury of 30- to 90-day visa-free travel. Those arriving by cruise ship and ferry in St Petersburg can also take advantage of a 72-hour visa-free regime, though it comes on condition that a tour is purchased through an officially recognised travel agency (which need not be the one offered by the cruise company). This is a restrictive way to travel, but perfect if you just want to spend a few days in St Petersburg.
Invitation
The most annoying part of the visa process is the need to provide an invitation (also called visa support) from a hotel or travel agency. If your hotel doesn't offer this service – most do and you'll sometimes have to pay for it – then you'll need to get in touch with a travel agency. You'll normally need to fill in a form online and give your planned travel dates, but you can leave generous room with these to allow yourself some flexibility. Invitations are normally processed within a week.
The following agencies can issue the invitations needed to apply for a Russian visa:
Express to Russia (www.expresstorussia.com)
OstWest.com (www.ostwest.com)
Travel Russia (www.travelrussia.su)
Way to Russia (www.waytorussia.net)
Application
Apply as soon as you have all the documents you need (but not more than two months ahead). Processing time ranges from 24 hours to two weeks, depending on how much you are willing to pay.
It's possible to apply at your local Russian consulate by dropping off all the necessary documents with the appropriate payment or by mailing it all (along with a self-addressed, postage-paid envelope for the return). When you receive the visa, check it carefully – especially the expiry, entry and exit dates and any restrictions on entry or exit points.
A third option is to use a visa agency. It's more expensive than doing it all yourself but it's a great way to delegate the hassles to someone else. Some agencies charge very reasonable fees to submit, track and collect your visa. The following are some recommended ones:
Action-visas.com (www.action-visas.com)
Comet Consular Services (www.cometconsular.com)
IVDS (www.ivds.de)
Real Russia (http://realrussia.co.uk)
VisaHQ.com (http://russia.visahq.com)
VisaCentral (http://visacentral.com)
Registration
On arrival you will be issued with a filled-out immigration card. This will be stamped along with your visa; one half of the card will be given to you, while the immigration officer will retain the other half. When you are checking in at a hotel, you'll have to surrender your passport and immigration card so the hotel can register you with the authorities. Usually they are given back the next morning, if not the same day. Some places (usually hostels) will charge for this service (around R250).
If you're not staying at a hotel, you will need to have your visa registered if you are staying for more than a week. The easiest way to do this is to take it to a travel agency where staff will usually offer registration for between R500 and R1000. If you are staying in Russia for fewer than seven working days, there is no need to register your visa.
Registration is very rarely checked these days, but can theoretically be demanded at any time, including at immigration on your way out of the country. While it's a pain, registering your visa remains wise.